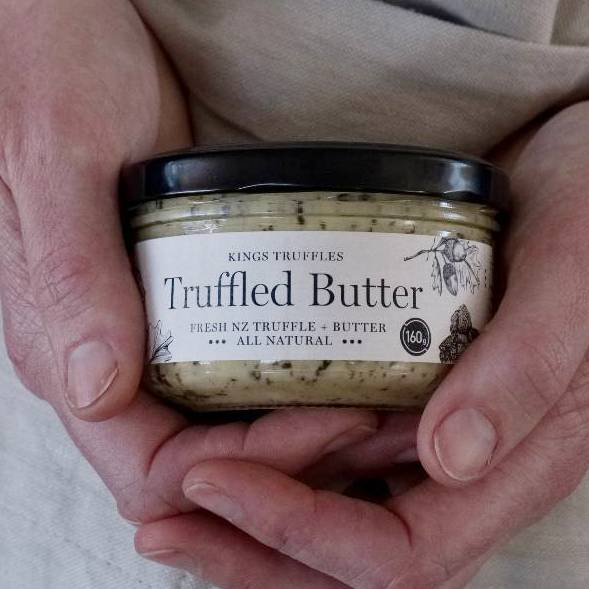 Hand crafted using only the best ingredients and plenty of fresh black winter truffle, with absolutely no artificial aroma or flavouring. 10% TRUFFLE!

The butter can be used to make a special winter meal, used as the star on a platter or gift it to someone special.

Perfect for finishing steaks, risotto, pasta, eggs, vegetables or simply smothered onto warm bread. The uses are endless and simple but the taste is extraordinary.

Please note that the butter is being sent from frozen. We can not guarantee it will still be frozen on delivery so it is a 3 week shelf life from the date we send it. If it is still frozen it can be kept this way extremely well. The price has been lowered because of this.
Serve at room temperature for best flavour.
Ingredients
Butter
Fresh black truffle (Tuber melanosporum)
Rock salt
Olive oil
Serving suggestions
Truffle butter is extremely easy to use, think anywhere you usually use butter! 
On toasted bread or sandwiches, to finish roast vegetables, mix through mash just before serving, on top of meat while resting, popcorn, eggs...
This is why this is a personal favourite, it is just so easy and versatile while being completely delicious. 
How will my butter be sent?
Orders are sent Monday - Thursday on an overnight courier (this may be longer for rural delivery options).
All perishable orders are sent with ice packs in a recyclable chillbox.
Orders must be placed by 9am Wednesday to ensure delivery before the weekend, otherwise it will be sent the following Monday.
Returns and refunds
Kings Truffles strives to deliver all orders in prime condition however we take no responsibility for goods after they have left our premises.
Because of the perishable nature of truffles we do not refund purchases. If you have any concerns with your truffle this must be reported via email within 24 hours of package receipt along with a photo of the issue.
Loss & Damage
Truffles are a delicate product which is why we pack them with care using ice packs, chiller boxes and an overnight courier service. All risk of loss or damage to the goods passes to the customer once goods are despatched. If an order is lost in transit, orders will not be replaced until such time as the original order has been located and returned to us.
To minimise risks we recommend that you arrange to be home when your order is expected to arrive or get them delivered to your place of work.